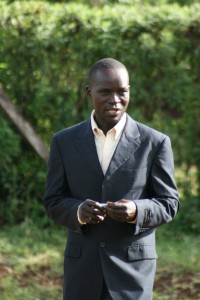 Onesmus Mmasi, Kenya Aid's in-country program co-ordinator, would like to thank the supporters of Kenya Aid and appeal for support to build permanent classrooms for the 250 students studying at Kenya Aid's non-formal school.
Allow me to take this opportunity on behalf of myself, my family, MURUDEF and the entire Shikunga community to appreciate the overwhelming support Kenya Aid has given to us during the year of 2014. I have no words to use to express this other than to say thank you and God bless you together with the family and friends you have mobilised to make this happen.
We are in the New Year and I want to continue to appreciate the supporters of Kenya Aid for their donations to have at least two classrooms roofed. We have already started putting material together for the builder to come and start work on the rest of the classrooms.
Our students have been performing well in the district, especially considering the kind of environment and facility they have been using. In regards to the Kenya Certificate of Primary Education (KCPE) results, our school performed very well in the district, ranking us 30 out of 76 at the district level. This was our first attempt after the school was granted provisional registration as an examination centre. Our appeal as a community is to have the classrooms and learning materials improved, as well as providing an ongoing teaching allowance, to help support our students to further success.
The services at the hospital are going well. We require a few minor maintenance issues to be carried out so we can have our annual license renewed by the government, most notably the painting of the inside walls.
Once again, thank you for the full support you have given us for the last year as we look forward to increased support in 2015.
Onesmus Mmasi
Program co-ordinator
Shikunga, Kenya