Last week Kanye was in the news for his wild Twitter rant in which he suggested friends and fans donate money towards his personal $53 million debt, rather than donate to build schools in Africa. The world didn't find it tasteful, and one Kanye fan decided to act.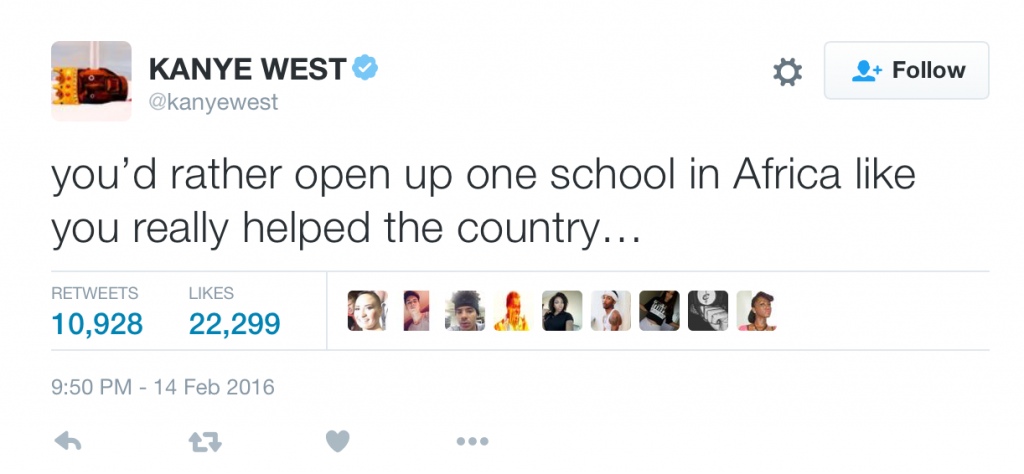 Gabriel Ferrer is a senior copywriter at Alma, the Miami-based multicultural wing of Omnicom's DDB network. He's also a lifelong Kanye West fan. But this particular freakout was the final straw, so Ferrer created the #HelpKenyaNotKanye project, a scrolling site that encourages fans to donate their money to more worthy causes and links out to related charities.
A number of random donations and a crashed website later, we realised what was going on. Gabriel had linked his site to ours and it seems the world agreed with him – there are far better causes to support than someone with 21 Grammys.
Being a Kanye fan is really hard. But donating to Kenya is really easy. I hope in the future I won't have to pick Good deeds over GOOD music, but until then we can help people that don't have 21 Grammys.
– Gabriel Ferrer
If you're visiting from Gabriel's website then welcome! Come have a look at the work we do, ask some questions, donate if you can (we are a registered charity with DRG status so donations over $2 a tax deductible)!
We absolutely love Gabriel's initiate and as the donations roll in it just goes to show the difference one person on the other side of the world can make. Nice work Gabriel, Alma are very lucky to have you.
PS – Kanye, Africa isn't a country.