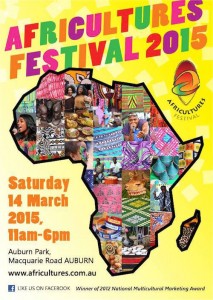 Kenya Aid is excited to have a stall at this years Africultures Festival – the largest African festival in Australia!
Come experience and celebrate the rhythm, dance, food and fashion of Africa at the 7th annual Africultures Festival. The Africultures Festival is gathering of the African communities and the general public in Sydney to celebrate the rich cultural diversity of Australia. The main aims of the event is to raise awareness of African communities, their cultures, traditional, businesses and services providers both government and non-government.
The Kenya Aid stall will be located in the African Market Place – come and check us out alongside 45 commercial and information stalls selling African products such as clothing, fabrics, home wares and accessories. But there's so much more to this festival from music to food, drumming, children's activities and sports demonstrations. If you're in Sydney and interested in African culture this event is not to be missed!
Date – Saturday 14 March 2015
Time – 11am to 6:00pm
Location – Auburn Park, Auburn